Fibrous plaster and ceilings
Maison Rouveure Marquez works with interior architects to offer bespoke ceiling decorations that will match the decorative style of your interiors.
Fibrous plaster is a material of unlimited manufacturing possibilities. Endowed with many technical qualities, it can be used to make a multitude of ceiling decorations. Those decorations combine meticulousness with originality to tastefully adorn ceilings, often forgotten in interior design.
Different type of ceiling decorations
Cornices, mouldings and geometric or raised graphics can elegantly dress up the ceilings of private homes and public buildings.
Fibrous plaster offers excellent thermal insulation, but that's not its only advantage. When used to make ceiling decorations, it offers a multitude of possibilities, not only in terms of forms.
In fact, thanks to its great workability, fibrous plaster can be endowed with effects which reproduce the textures of different materials like wood or stone for example.
Round ceilings
Spurred by motion, round and circular shapes add modern, social touches to spaces.
Graphic ceiling decorations
Graphic ceiling decorations are often found in luxury establishments where every detail counts. These architectural elements can accentuate the effects of carefully selected recessed lighting or hanging lights. Whether modern or Art Deco, graphic ceilings made of fibrous plaster can mimic a variety of architectural styles.
Linear ceilings
Straight lines add elegance and establish a room's perspective. Contemporary lighting gorges that fit in with the ceiling's lines can be developed to forge an intimate atmosphere.
Raised ceiling decorations
Creating relief on a ceiling makes it possible to play with depth, field perception and sometimes even optical illusions in atypical creations.
Ceilings with ornamentation
With the pure influence of classic fibrous plaster, the presence of ornamentation on the ceiling is reminiscent of the elegance and refinement of ancient architecture.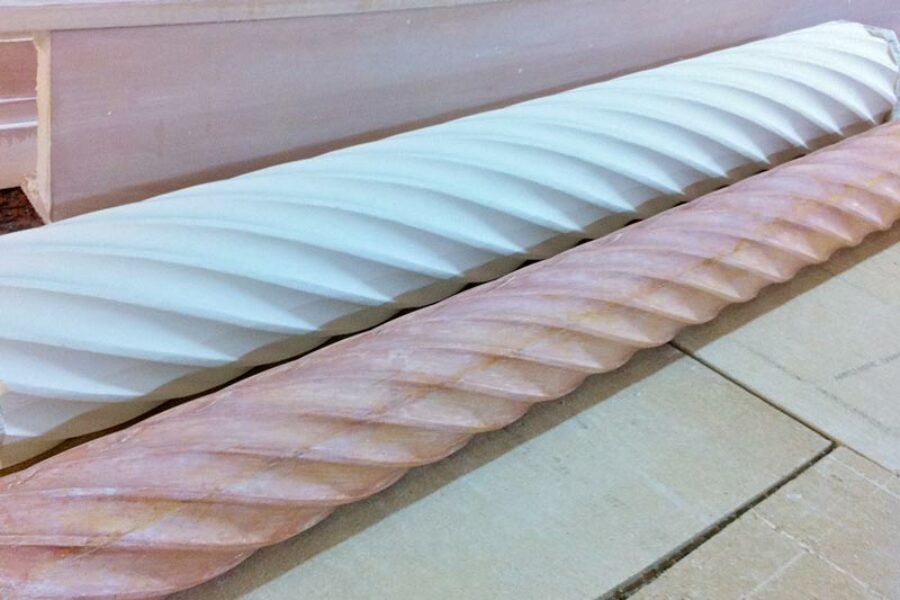 True works of architectural prowess, Solomonic columns are making a major comeback in the interior design of prestigious locations.
Our bimonthly flashes news in your inbox!