Fibrous plaster decorations for doors and corners
Between floral, classic, graphic and geometric motifs, floral volutes, foliage scrolls and more, you can choose from a wide variety of motifs to adorn the areas above doors and the corners of rooms. In castles, museums and even private homes, this ornamentation bears witness to ancestral know-how and a degree of nobility.
The malleability of fibrous plaster makes it possible to create decorations with meticulously crafted motifs to enhance an interior space by immersing it in a classical architectural style.
A overview of décor for doors and corners
Architectural décor for doors and corners
The Greeks invented the door decorations known as "pediments". Placed above the entrance to a temple, these pediments typically came in a triangular form adorned with mouldings. This is one of the main characteristics of Greek architecture.
This decoration was later adapted for widespread use in Roman architecture.
After disappearing during the Middle Ages, pediments reappeared during the Renaissance, in their primitive circular or pointed forms.
Synonymous with elegance and refinement
Typical of great, spacious Haussmann flats, these door and corner decorations are a testimonial to ancestral know-how and architectural style.
This ornamentation is a real asset in enhancing interior décor, helping to show off cornice corners and enabling full exploitation of the potential of the areas over doors.
Between floral, geometric and graphic motifs, these architectural elements will reveal all the authentic charm of your interior.
The decorations over doors and in corners are the perfect blend of modernity, design and Art Deco.
Examples of décor for doors and corners
Rounded decorations
adding a soft touch to an interior space
Circular or rounded over-door decorations anchor the décor in refinement. These shapes provide not only stability but also movement. They enhance ceiling height and create an illusion of grandeur.
Because resolutely modern shapes can fit in with any architectural style, they can also be combined with leafy details to add a touch of nobility to an interior.
A example by Maison Rouveure Marquez
Decorations in a mashrabiya spirit
Mashrabiya decorations provide a real architectural edge thanks to their perforated motifs. They can be used to preserve the intimacy of a room whilst creating lighting effects.
These open motifs immerse your interior area in a Middle Eastern style, which is often a vehicle for a warm, social atmosphere.
Bedecked with these carefully worked, painstaking motifs, interiors and areas over doors can become true works of art.
A example by Maison Rouveure Marquez
Decorations with floral motifs
typically festooned with leaves and flowers, there are also known ans foliage scrolls.
Cnrtl definition: FINE ARTS, DECOR
Foliage scroll: An ornamental motif in the form of a curved branch bedecked with leaves, which may be supplemented with shoots, flowers and fruit and which is chiefly used in architecture (sculpted or painted) but also in a variety of decorative arts.
These motifs are reminiscent of the decorations in royal palaces. As symbols of nobility and elegance, floral motifs are particularly suited to showcasing high ceilings.
Decorations with floral motifs can fit into any interior décor.
A example by Maison Rouveure Marquez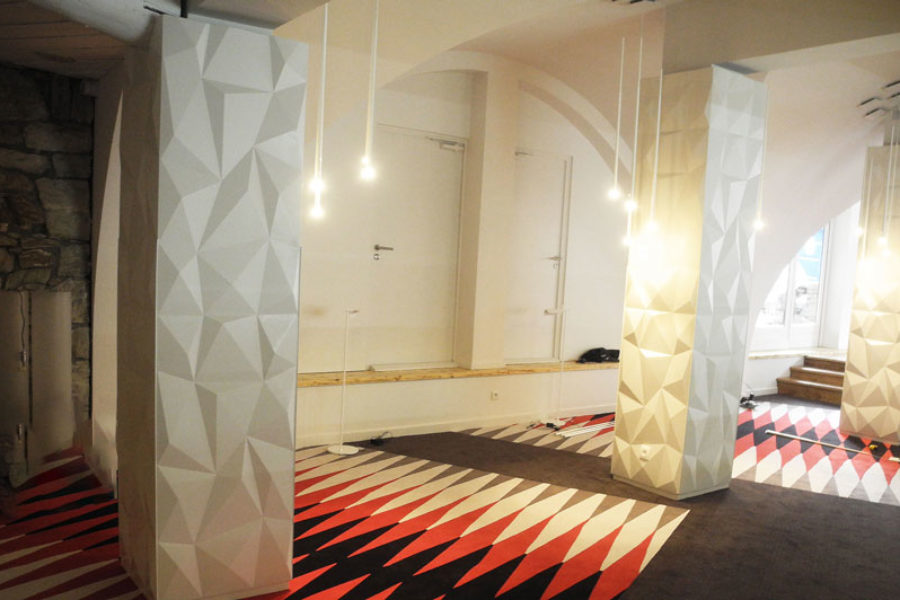 Decorative motifs can take a variety of forms on columns made of fibrous plaster: graphic, classic, imitation tree trunks and more. A quick glimpse at the range.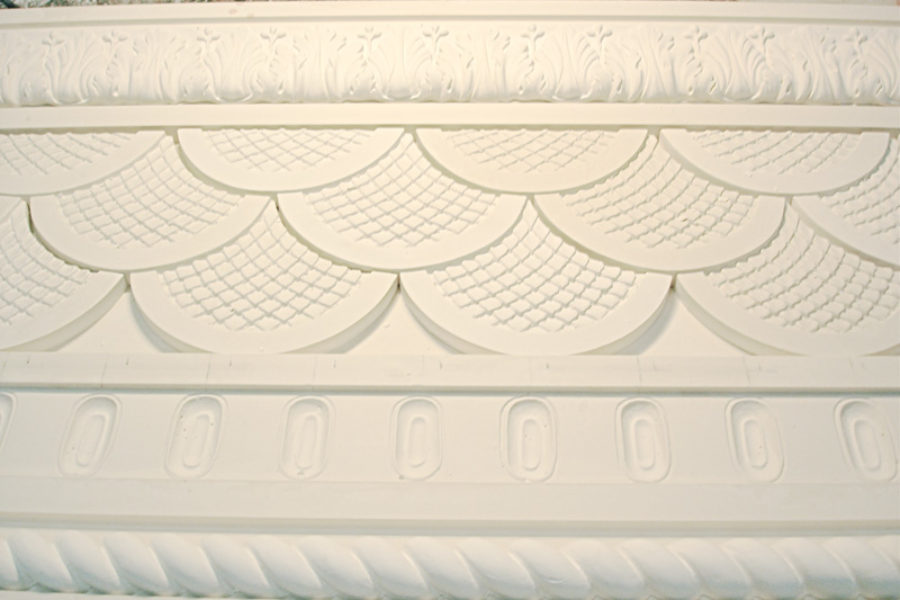 Fibrous plaster wall friezes, the ideal decorative solution to beautify your ceilings or walls. A quick glimpse of different wall frieze motifs made of fibrous plaster.
Our bimonthly flashes news in your inbox!