The 26th edition of the International Cultural Heritage Fair
The renowned International Cultural Heritage Fair is the must-attend annual event. Organized by Ateliers d'Art de France, it is the biggest event for professionals and non-professionals who are passionate about cultural heritage.
Each year, the fair promotes and shines a spotlight on the protection, preservation, conservation and refurbishment of French and world heritage.
The 26th edition will take place from 28 to 31 October 2021, at the Carrousel du Louvre.
A overview of this major event
The international Cultural Heritage Fair
The must-attend French heritage and craftsmanship event since 1994
The season will once again feature a multitude of conferences and demonstrations.
A fantastic programme with focus on the theme of « HERITAGE AND TERRITORIES ».
Organized by Ateliers d'Art de France
Made up of 280 applied artists and 38,000 companies, this trade association promotes craft professionals and their role in society through various cultural events in France and abroad.
In 2009, some 15 years after the creation of the iconic Maison&Objet fair, the Ateliers d'Art de France association took over the International Cultural Heritage Fair, with the goal of recognizing and supporting professionals and encouraging discussions through conferences, awards and contents.
Through records of ancestral techniques, in some cases forgotten or little-known, this annual event gives professionals the chance to demonstrate their expertise.
Thanks to live demonstrations, discussions and encounters, visitors can learn about the different applied arts, sites and monuments which form our history and French cultural heritage.
OFFICIAL DEFINITION OF AN APPLIED ARTIST
"An 'applied artist' is a natural person or a manager of a legal entity that performs […] independent production, creation, transformation or reconstruction, or heritage repair or restoration work, characterized by the mastery of handiwork and techniques which involve working materials and demand an artistic touch."
ARTICLE 22 OF THE FRENCH LAW ON CRAFTS, COMMERCIAL AND VERY SMALL BUSINESSES
18 JUNE 2014
2021 thème of "Heritage and Territories"
After the in-person edition of 2020 was postponed due to the pandemic, the 26th International Cultural Heritage Fair will take place at the end of October 2021, with a theme of "Heritage and Territories". 
What new developments in support and restoration work have we witnessed in the maintenance of our cultural heritage? How do we currently promote the importance of our cultural legacy through our heritage? What influences do our territories' cultural worlds have on our heritage, and vice versa?
You can address and explore all these questions and more during the event, in the form of exhibitions, conferences anddiscussions orchestrated and moderated by speakers and participants.
These worlds, which are as age-old as they are atypical, include manual creations and trades, and historical experiencesand accounts, at a major heritage and culture event.
Key figures from the 2019 edition
The 25th anniversary of the fair!
Exhibitors
Cultural heritage and crafts professionals
Each year, this international event hosts more than 300 exhibitors showcasing their know-how, their expertise and their passion for cultural heritage.
Restorers, decision-makers, craftworkers, project managers, suppliers of materials and products for movable and immovable assets will all be in attendance at the 26th edition of the fair.
The International Cultural Heritage Fair offers great visibility to more than 40 trades and business sectors. This event provides an opportunity to show off their expertise to the general public and to professionals in the sector.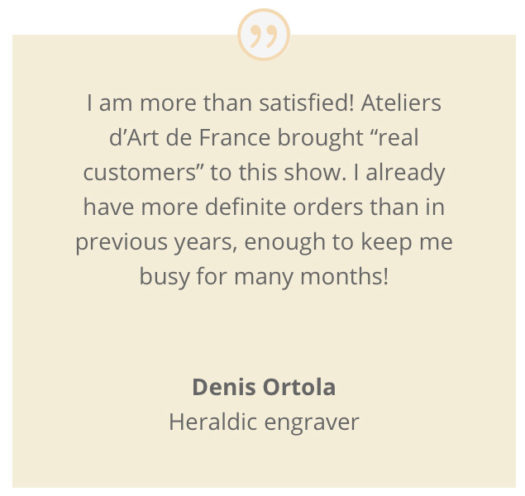 Applied arts and Maison Rouveure Marquez
Plasterers since 1948
Ornamental plastering is an applied art. It requires ancestral know-how to manufacture decorative elements out of plaster and plant fibre. Fibrous plaster is used in the restoration, renovation and construction of ornamentation.
Discover the exciting profession of ornamental plasterer, which belongs to both the applied arts and the building industry, and the various training options available.
INTERNATIONAL CULTURAL HERITAGE FAIR
at the Carrousel du Louvre
99 Rue de Rivoli, 75001 Paris (France)
Website of the event
Our teams are ready to hear all about your plans for bespoke creations for your
Our bimonthly flashes news in your inbox!