Review of a year with a wealth projects for Maison Rouveure Marquez
During this highly creative year, our ornamental plasterers have remodelled the very essence of prestigious locations throughout France, thanks to the imagination of renowned architects.
The unique decorative elements created for fibrous plaster projects can transform a place's identity.
Our contributions to interior design projects
Renovation of luxury fashion boutiques
Our teams have worked on the renovations of a number of shops for luxury fashion houses such as Isabel Marant, Yves Saint Laurent, Balmain and Louis Vitton. Their expertise in the retail sector has given them the tools to build collaborative, trust-based relationships with general contracts and architects.
The Louboutin women's boutique in Paris' 1st arrondissement
Fashioning decorative elements out of fibrous plaster
In 1991 Christian Louboutin created the Louboutin brand, opening its first women's boutique in Paris' 1st arrondissement. This boutique has now been given a new look. Imagined by Octopus Studio and orchestrated by Zacharie Agencement(interior design studio), the universe of the boutique has been redesigned according to Baroque artistic conventions.
Our ornamental plasterers have played their part in showcasing the brand's products by crafting fibrous plaster wall nichesand arches. The incorporation of the round ceiling with luminous grooves has created an elegant, muted atmosphereperfectly aligned with the brand.
The Isabel Marant boutique in Lille
Making fibrous plaster furniture
The Isabel Marant brand's 52nd boutique, located in the heart of Lille's historic old town, takes its inspiration from the sophisticated retro spirit of the brand universe.
This interior design project has been led by the general contractor Charmeil Contractant Général and project managed by the company BF Invest. The products are shown off to their best advantage by the flawlessly white fibrous plaster of the various decorative elements.
Our teams were involved in creating this universe by making  fibrous plaster furniture, and incorporating fibrous plaster LED-lit niches and shelves with rounded angles.
Luxury residential projects
Interior renovation of a bourgeois apartment in Lyon
Crafting cavetto cornices
This renovation of a bourgeois apartment located in Lyon's 6th arrondissement was devised by the firm Pépin de Banane Architecture.
Selected from Maison Rouveure Marquez's catalogue of cornices, the slightly rounded profiles of the cavetto cornices give asoftness to the ceiling and echo the shape of the furniture. A clever blend of colours, shapes and materials, this Lyon apartment has an intentionally designer, modern feel.
Decoration of ceilings in a Parisian apartment
Modillon cornices and fibrous plaster ceilings
Continuing our successful collaboration with Eric Boyer, our ornamental plasterers worked alongside the Paris- and Lyon-based architect to renovate an apartment in Paris' 8th arrondissement.
Our teams produced and installed modillion cornices to inject a classical finish into the interior design. They also put their expertise to work by installing fibrous plaster ceilings using the wadding technique. You can see this installation process on the videos on our YouTube channel.
A provate chalet in France's Haute-Savoie department
Draped with fibrous plaster curtains
Let's revisit an unusual decorative project we carried out in a private chalet in the village of Megève, the inspiration being Italian theatre decor.
To achieve the look of a theatre, our teams imitated drapery by creating breathtakingly realistic, symmetrical drop-downs of curtains, together with a wall arch frame with a floral braid.
Our expertise in cultural sites and public spaces
Refurbishment of the Montélimar Theatre
Production of the railings, proscenium arch and circular ceiling
An Italian style theatre with a neoclassical façade, the Montélimar Theatre underwent significant conservation work in 2014 and 2015. Initially the object of heavy criticism upon its opening in 1885, the theatre quickly became an iconic cultural site in the town of Montélimar.
This renovation project was orchestrated by the architect Maria Godlewska and the ERBA group.
The architectural style of the façade has been conserved but its interiors have been redesigned. The main aim of this transformation was to increase the theatre's seating capacity while preserving the stylistic conventions of Italian theatres. 
Our ornamental plasterers have made the railings for the new balconies, the proscenium arch as well as the magnificent soaring circular ceiling.
Renovation of the Allevard Museum
Rockfon® Mono® Acoustic ceilings
Rebuilt in the old casino in Allevard thermal park, the Allevard Museum is intended as a space for exhibitions on the thermal baths and the historical wealth of Allevard's heritage. Orchestrated by the architecture firm Atelier 17c Architecture, a variety of trades were involved in this renovation to make the most of the location.
Maison Rouveure Marquez, subcontracting for the company Albert et Ratin, installed Rockfon® Mono® Acoustic ceilings at a height of 10 metres, in accordance with authorised procedures. Our ornamental plasterers received training in how to spray on the specific plaster to give an aesthetic rendering.
A year with a wealth of projects
This year, Maison Rouveure Marquez did a lot of work on decorative trends in fibrous plaster. They were able to demonstrate their know-how on numerous projects, including the creation of chimneys and bespoke staircases.
The year 2021 was also a great year for interior design projects, encompassing the production and installation of cornices and curved partitions.
There was also an upswing in the use of Mono Acoustic sound solutions to revamp ceilings in locations with remarkably high ceilings or heavy foot traffic.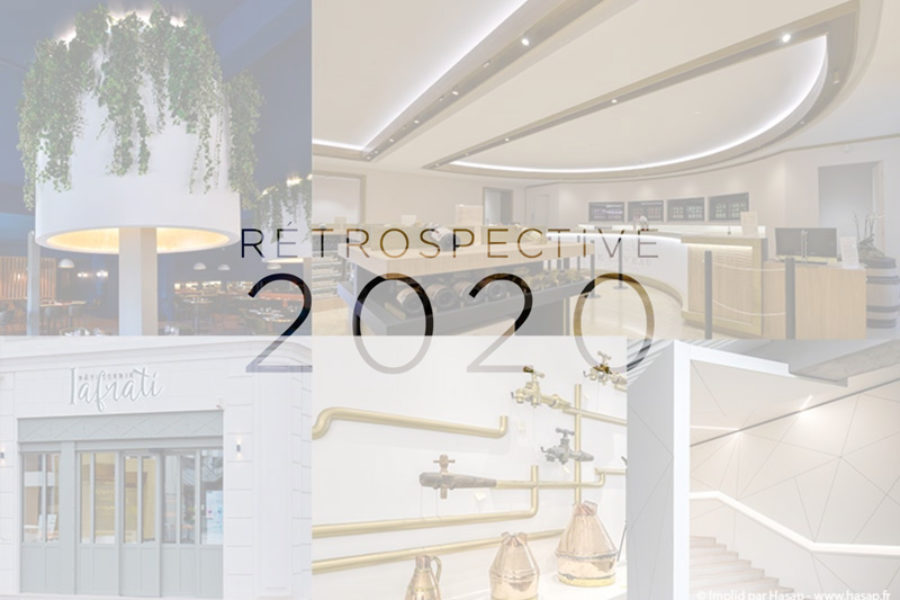 A look back at the projects completed by our ornamental plasterers over the course of 2020: classic and contemporary fibrous plaster, acoustic ceilings, and more.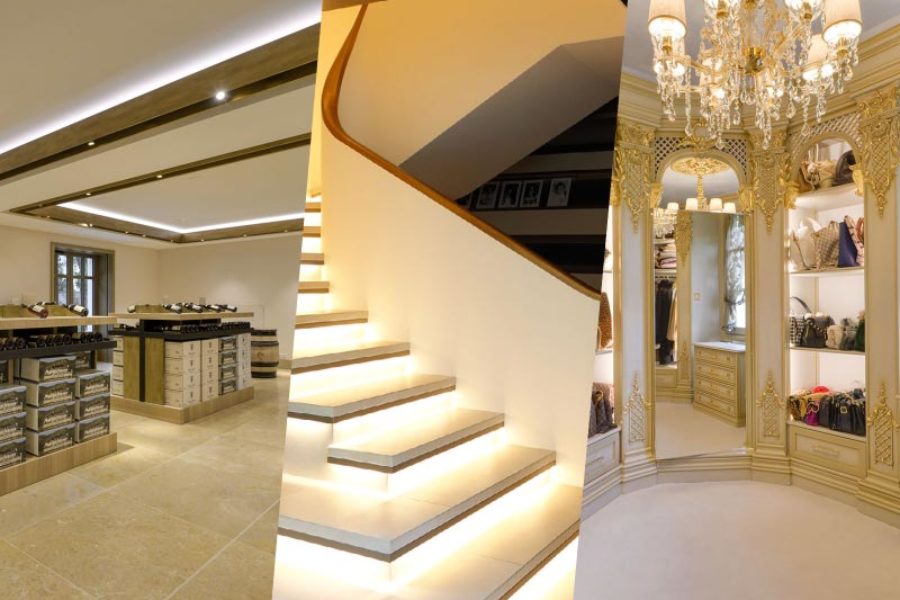 A glimpse at some of our collaborations with decorator and painter Marc Begon of Begon Deco. Fibrous plaster creations enhanced by his decorative interpretations.
Our teams are ready to hear all about your plans for bespoke creations for your
Our flashes news in your inbox!