Decorative objects and architecture
Of all the decorative objects, statues and gargoyles have long held an important place in the world of architecture. Contemporary fibrous plaster offers the chance to update these decorative elements with the incorporation of logoed elements to personify the activity in each layout.
Statues & gargoyles
also known « mascarons »
Cnrtl Definition: ARCHITECTURE
Mascaron : An ornamental motif in the form of a grotesque or fantastical face in the round or in a bas-relief which might, for example, be found adorning the keystone of an arch, a capital, an entablature or a fountain orifice.
The primary function of a mascaron was to drive away evil spirits to prevent them from entering a building. Nowadays, statues are most often used in décor, for purely decorative purposes.
Although chiefly incorporated into the exterior décor of façades, statues also appear in interior décor. They hold a prominent place in the embellishment of vault corbels and areas over doors.
A example of a site with gargoyles
Gargoyles
made of classic fibrous plaster
Gargoyles began to appear in architecture beginning in the Gothic period. They are considered to be one of the main characteristics of that architectural style.
Initially, these sculpted figures were placed on building tops to drain rainwater so it would be discharged at a distance from the walls to prevent any damage to them.
However, gargoyles are also used to decorate architectural pieces like cornice corners, vases and over-door areas.
They can endow décor with a touch of refinement and originality. Their very pronounced style situates gargoyles firmly in the décor of the Gothic period.
Logoed elements
made of contemporary fibrous plaster
Thanks to its great malleability, fibrous plaster can be used to manufacture all sorts of ornamentation, from the most traditional to the most modern.
When renovating shopfronts, decorations made of fibrous plaster can be devised to reflect the location's business sector.
Logos and other products manufactured in bespoke moulds can come to life, raised against the shopfront or in the hallways. This resolutely modern use of fibrous plaster makes it possible to manufacture extraordinary, unique décor.
A example by Maison Rouveure Marquez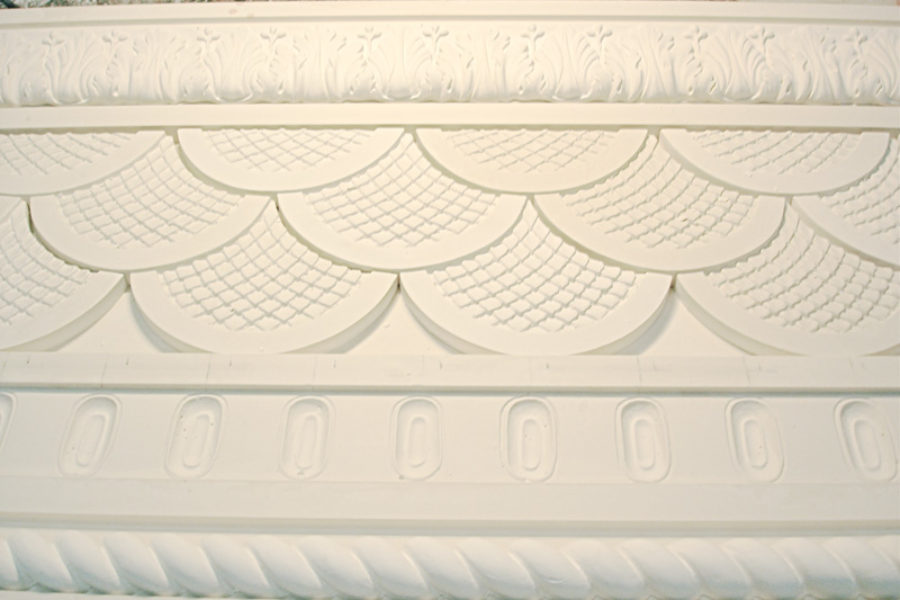 Fibrous plaster wall friezes, the ideal decorative solution to beautify your ceilings or walls. A quick glimpse of different wall frieze motifs made of fibrous plaster.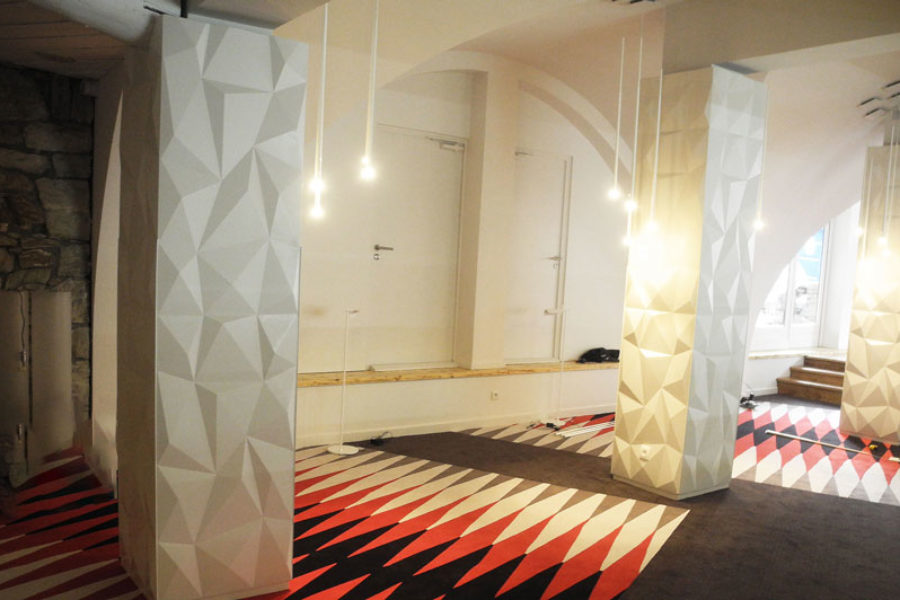 Decorative motifs can take a variety of forms on columns made of fibrous plaster: graphic, classic, imitation tree trunks and more. A quick glimpse at the range.
Our bimonthly flashes news in your inbox!