The use of fibrous plaster in the design of wellness centres
Fibrous plaster, a material that offers multiple technical and aesthetic advantages, is frequently used to build or renovate spas located inside prestigious hotels. Our ornamental plasterers put their expertise to work for locally and internationally renowned architects, to facilitate their decorative plans.
Spas are important, prominent places at hotels. They contribute to the value of high-end amenities and to the image and reputation of the establishment. As a space dedicated to relaxation, a spa's atmosphere must be unique and enchanting.
Here are a few options for creating exclusive spa areas with fibrous plaster!
Why opt for fibrous plaster in your spa?
Technical benefits of fibrous plaster
The choice of fibrous plaster for spas is the obvious choice. As a durable, soundproof material, it can be used to create extraordinary decorative elements that are astonishingly refined. Its application requires a certain level of expertise to meticulously craft ornamentation worthy of the location where it will be installed.
Les atouts esthétiques du staff
Fibrous plaster can satisfy all of a place's aesthetic requirements by imitating textures, creating amazing shapes, reproducing architectural styles and manufacturing ceilings. The only limitation on its tremendous malleability is the designer's imagination.
Fibrous plaster ceilings in spas
Installing of fibrous plaster ceilings in spas can create a special atmosphere in perfect harmony with the space.
Ceilings with faux wood beams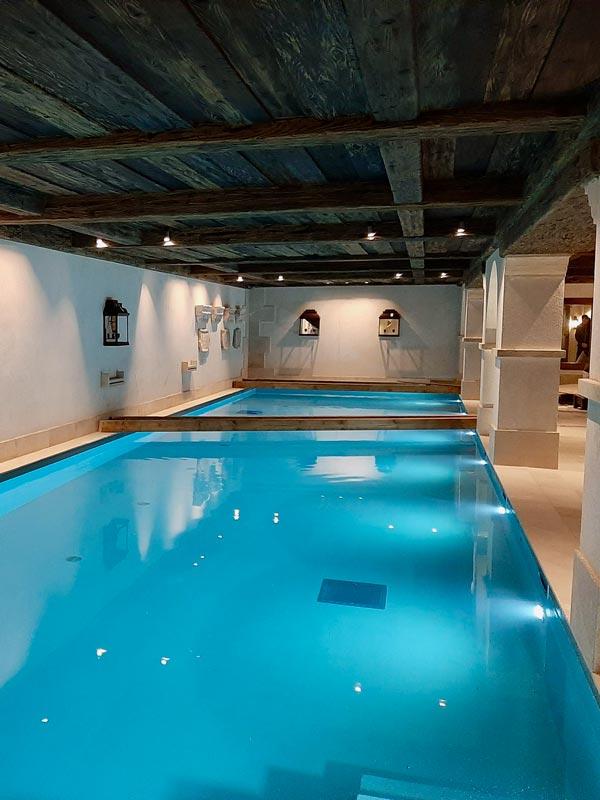 This presence of "wood" also adds a natural touch to the prestigious wellness centre.
Geometric and graphic ceilings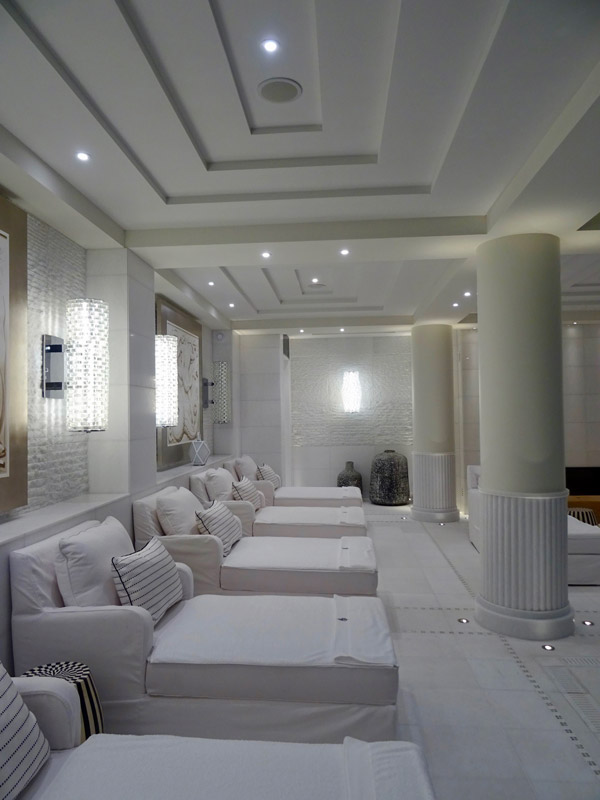 Nothing is more emblematic of the modern architectural style than a fibrous plaster ceiling featuring graphic lines to imbue a spa with a contemporary, functional design.
The creation of bespoke sculpted ceilings can firmly connect a space to the Art Deco style, resulting in a deliberate décor that adds a sense of movement to the ceiling.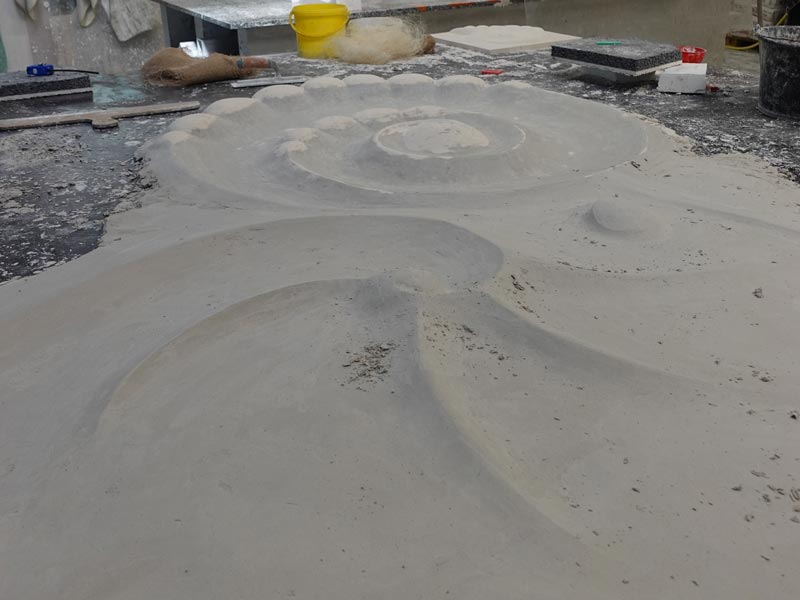 Textured relief in décor can be used to play with perspectives in the space, producing the illusion of ceilings higher than they actually are.
When arranged above a spa's swimming pool, sculpted, textured ceilings take on new meaning as they are reflected in the water, generating an inferred impression of motion.
An example from Maison Rouveure Marquez
Fibrous plaster cornices in spas
Cornices are essential ceiling adornments for spas. Depending on the chosen decorative motif, they can add a sense of movement and linearity to a ceiling. The presence of cornices can also establish continuity between ceiling and walls.
Illuminated cornices with light gorges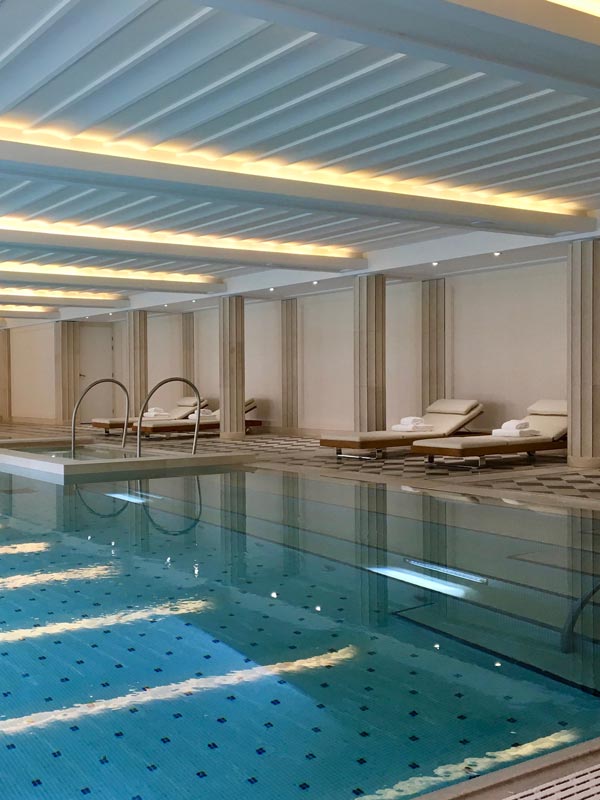 Cornices are particularly appreciated for the refinement they exude and can also have lighting embedded in order to show off their motifs, as well as the ceiling to which they are attached.
Illuminated cornices help to instil a space with a contemporary design whilst creating a cosy atmosphere with their diffuse light.
A modillion is a decorative element whose purpose is to support a cornice or a balcony. Modillion cornices are considered to be contemporary decorations because of the absence of ornamental motifs.
Incorporating them into the decoration of a spa's ceiling injects the whole space with a modern, structured décor.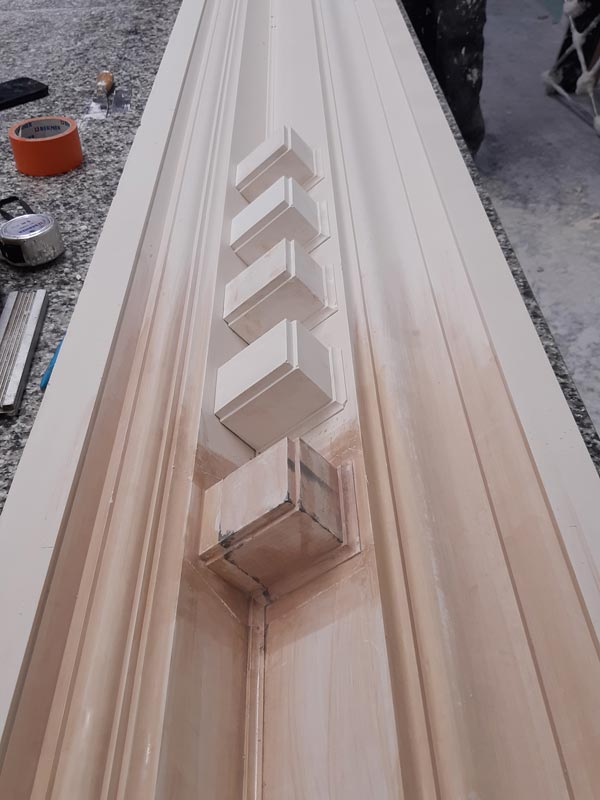 An exemple from Maison Rouveure Marquez
Fibrous plaster columns in spas
The presence of
columns
in spas provides structure whilst dressing up the spaces. The delicate detail of the motifs further accentuates the soothing atmosphere of the place.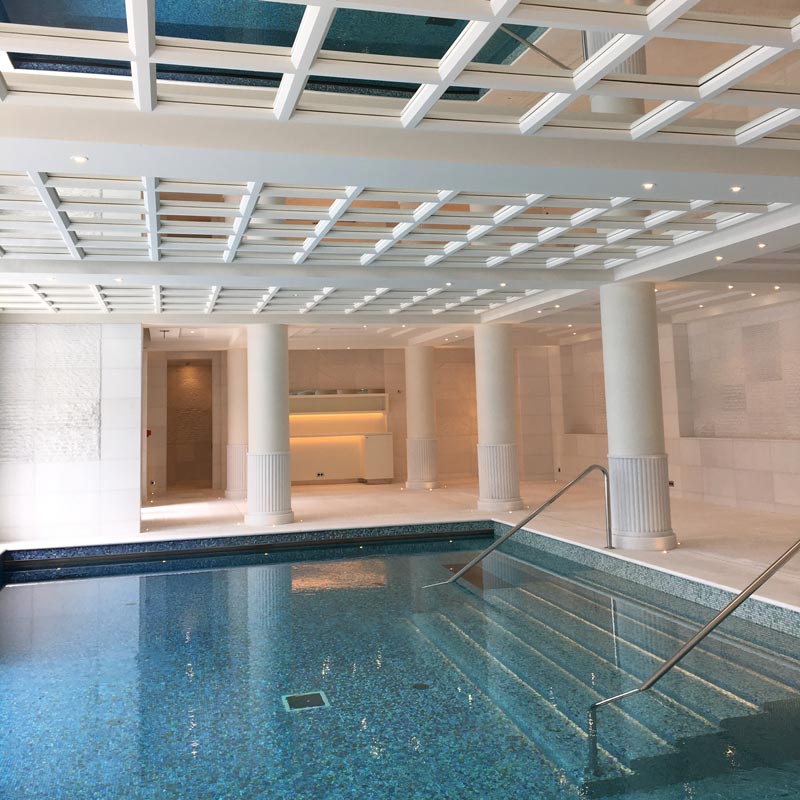 The Pompeian architectural style employed in the spa at the Four Seasons Hotel in Megève contributes to its finely worked, modern décor.
The incorporation of this kind of motif, combined with a graphic ceiling, immerses the space in an attractive, understatedand captivating world.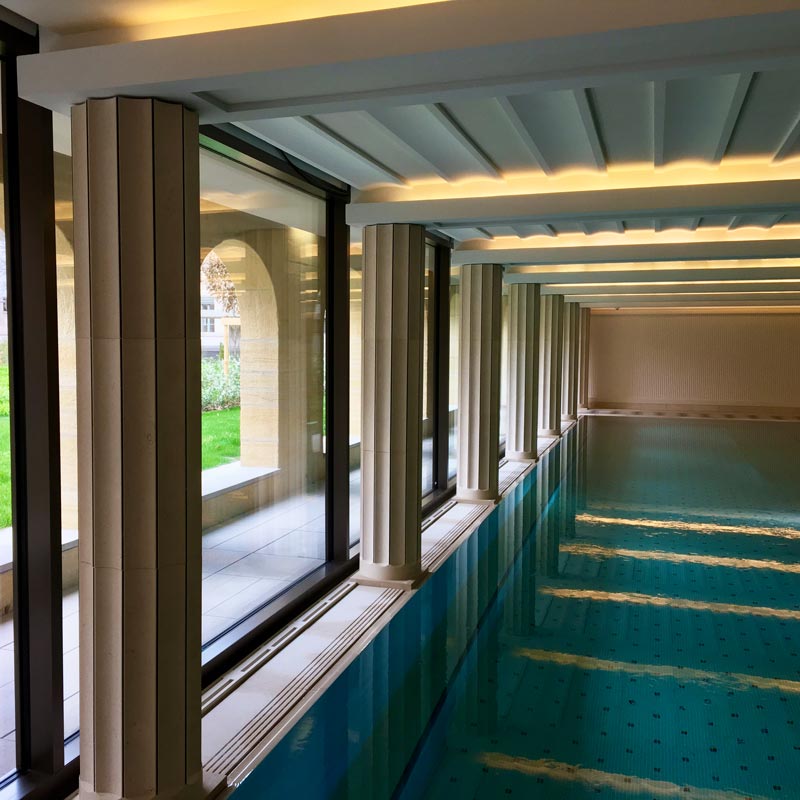 Graphic columns featuring fluted lines are terrific for instilling a climate of relaxation. Arranged around a pool in a wellness centre, these columns set the tone as they are elegantly reflected back by the water.
An example from Maison Rouveure Marquez
Our teams are ready to hear all about your plans for bespoke creations for your
Our flashes news in your inbox!