The Japanese art of folding paper has been inspiring the building industry for years. Its modern, minimalistic design lets architects imagine distinctive contemporary constructions.
No tools are required to make origami out of paper. That art requires nothing more than creativity, patience and dexterity. At the same time, that technique knows no limits, other than those of imagination and skill.
The term is derived from the Japanese words for "fold" and "paper". Origami was originally a folk art from China, consisting of a series of techniques for cutting and folding paper. It was only later that it truly took off in Japan.
Since then, this art has been defined by movements and trends. The product of a longstanding tradition, origami is, first and foremost, a decorative art which allows for the representation of animals, geometric shapes and objects.
In architecture, origami is used in modern, atypical locations.
Seemingly fragile in appearance, it creates astonishing contrasts with the solid nature of fibrous plaster. Plaster origami can play with light and shadow, making the most of complex forms.
This combination, mixed with the simplicity of its shapes, adds a touch of refinement and sense of purity to indoor spaces.
This art has even a graphic motif. In bedding and wallpaper, the regularity of geometric shapes gives structure to interiors.
Whatever the style of décor and architecture, this influence is perfectly aligned with the originality of a modern construction.
Thanks to its traditional history and its graphic lines, it plays with impressions of lightness and depth to attract the eye.
Origami architecture in six projects
1. Museo ABC in Madrid
by Aranguren & Gallegos Architects
Designed by Aranguren & Gallegos Architects, this museum showcases the largest collection of illustrations and drawings in all of Spain. The origami façade, with its stainless steel look, is dotted with triangular glass windows that echo the floor of the entrance.
2. Lycée International in St-Germain-en-Laye
by Ar+te Architectes
The origami construction of the international secondary school's reception building, designed by Ar+te Architectes, represents a dove, the universal symbol of peace.
3. Médiathèque d'Anzin
by Dominique Coulon & Associés - Anzin (France)
4. Origami Building in Paris
by Manuelle Gautrand
Manuelle Gautrand's architectural project houses the French head offices of Barclays Capital Bank. Its glass façade is decorated with marbled patterns in a chic imitation of Japanese origami.
5. AA House in Barcelone
by OAB - Carlos Ferrater
An impressive multi-faceted family home conceived by the avant-garde architects Carlos Ferrater and Xavier Marti Gali. The origami influences of this architectural creation mix perfectly with the lush green setting of the surrounding forest. A building that takes you outside of time!
6. Musée des Confluences in Lyon
Coop Himmelb(l)au
Last but not least, we have the imposing Musée des Confluences, designed by Coop Himmelb(l)au, the Austrian firm famous for its deconstructed architectural projects. Three architectural units: the Crystal, the Cloud and the Base, in which flow, transparency and modularity intermingle. Simply magical!
Origami and Maison Rouveure Marquez
Thanks to the malleability of fibrous plaster, Maison Rouveure Marquez has a perfect grasp on the possibilities of origami creations. The supple material can be used to make the complex geometric shapes involved in the folding art.
For 3D productions with real depth, we liven up our project sites with elegance and modernity. For example, we have created origami wall cladding and ceilings out of fibrous plaster for Implid.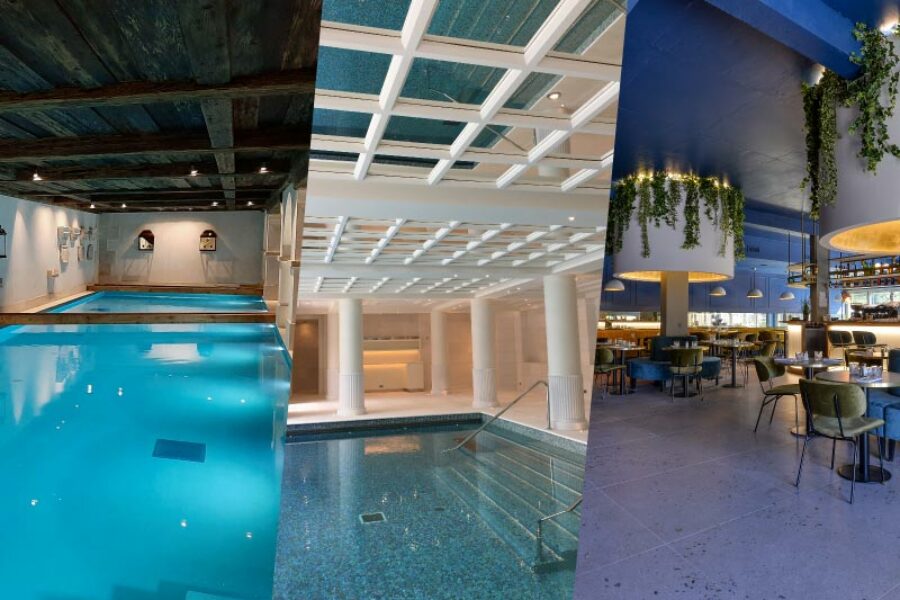 three glimpses of projects for the hospitality sector Our fibrous plaster creations made for hospitality projects led by nationally and internationally renowned architects!
Our bimonthly flashes news in your inbox!