The role of mouldings in fibrous plaster
Craft moulding is one step in a project's fulfilment process and plays an important role in making the work truly unique. Mouldings are highly appreciated for their quality, consistency and artistic interest in relation to the original piece.
Moulding techniques make it possible to produce unique creations dreamt up by architects or ornamental plasterers. The tremendous malleability of fibrous plaster makes it capable of meetings the needs of the most prestigious locations.
Discover the art of moulding
Mouldings, history and architecture
Moulding: The action of applying a malleable substance to a solid in order to take an imprint of its contours, with all its nooks and crannies, and make a mould.
The origins of moulding are difficult to determine. That being said, during the Bronze Age, men engraved stone or bronze to produce moulds. They would then pour heated metal into the engravings.
Moulding has evolved over time, although it still uses techniques dating back to Ancient Greece, like lost wax casting, a technique that required an initial mould of the original model.
The Egyptians used plaster moulds in 1360 BC to reproduce death masks and statues. The Greeks and Romans also employed plaster moulds to reproduce architectural décor made of the same material. In addition, 5th century BC pieces made and moulded with plaster have been uncovered in Cyprus.
Moulding is a very widespread technique in the fields of décor, industrial and artistic smelting, and industrial and craft ceramics.
Many materials can be moulded, such as resins, plaster, stucco and fibrous plaster.
Moulding and fibrous plaster
During the Renaissance, plaster moulding enabled the reproduction of decorative elements the likes of brackets and cornice modillions. But it was only in the early 19th century that decorative moulding with mastic truly took off.
From the end of the reign of King Louis XVI until the First French Empire, decorators continued to seek out inexpensive decoration methods. The spread of ornamentation made of carton-pierre helped to develop the technique of moulding for interior décor. It wasn't until the 19th century that canvas was incorporated into plaster mouldings, to reinforce their solidity.
It is traditionally accepted by a number of authors that the inventor of fibrous plasterwas the Frenchman Mézier, although others attribute it to the French modeller Alexandre Léonard Desachy.
Fibrous plaster applications
Fibrous plaster boasts many technical benefits, including its great malleability.
As a result, fibrous plaster is used to restore ancient décor like cornices and mouldings. It can also be found in theconstruction and renovation of cultural sites, hotels, restaurants and shops. Fibrous plaster is also known for improving sound insulation in locations where it is present in the form of ceilings.
Our teams are ready to hear all about your plans for bespoke creations for your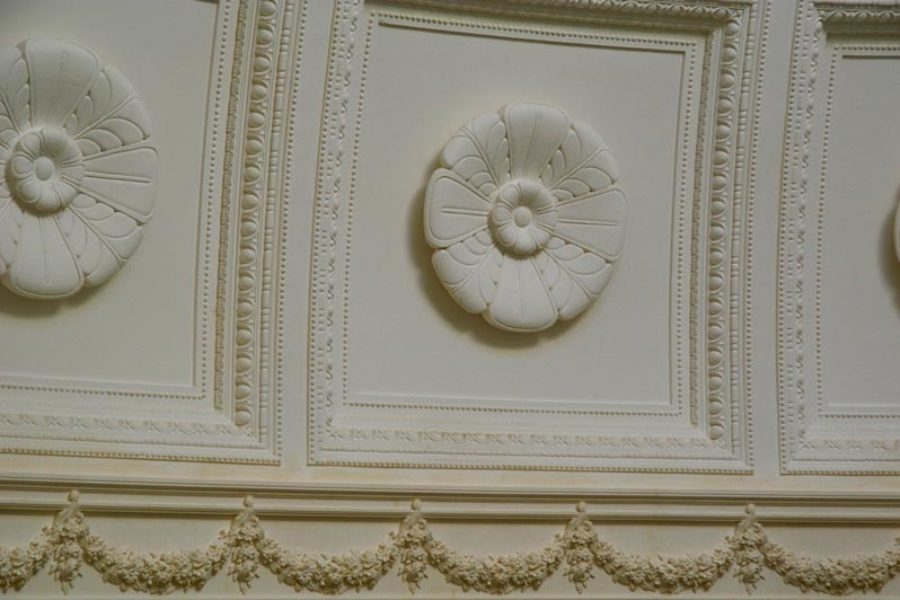 Roses made of fibrous plaster constitute one of the most widespread decorative motifs for ceilings and walls. In a classical style or to beautify your contemporary spaces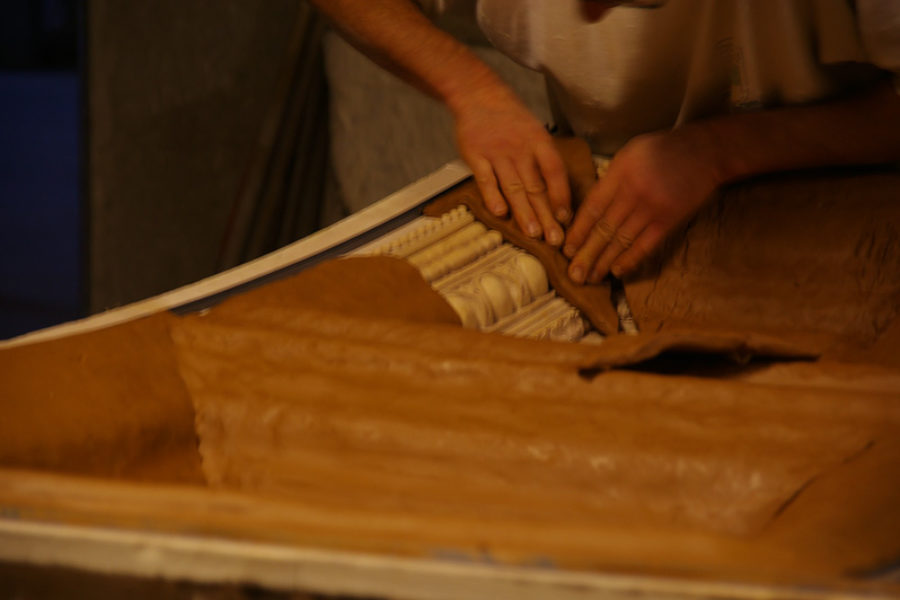 Moulds are frequently used to work fibrous plaster to produce the desired forms. Each project calls for a different mould…
Our bimonthly flashes news in your inbox !